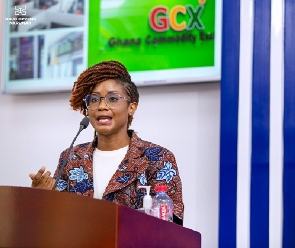 Heads of African Commodity Exchanges from Ghana, Nigeria, Tanzania and Ethiopia have identified the standardisation of commodities as a significant challenge in their respective countries' efforts to take advantage of the African Continental Free Trade Area (AfCFTA).
The volume of trade on the Ghana Commodity Exchange (GCX), APEX Commodity Exchange and the Egypt Commodities Exchange is 2,037.1539; 526,850; and 130,354.200, respectively.

The Chief Executive Officer of Ghana Commodity Exchange (GCX), Tucci Goka Ivowi, emphasised that achieving a universal commodity standard remains a persistent challenge in the cross-border market.

He also highlighted the expectation of similar issues as African countries expand their trade across borders.

Resolving this challenge requires recognising what is widely acceptable in intra-African trade, which would serve as a minimum standard.

Speaking as a panellist at a webinar organised by the GCX on the theme 'Preparedness of African Commodity Exchanges for AfCFTA', Ms. Ivowi maintained that commodities – despite being simpler products compared to processed and branded goods – have numerous complexities. While she expressed optimism about the continent's ability to overcome these challenges, she cautioned that it will take time to achieve fully harmonised standards across countries. She urged stakeholders to be prepared for the time-consuming process.

The Director of Trade in Goods and Competition at the AfCFTA secretariat, Mohammed Ali, suggested that addressing the issue of standards could involve identifying a specific group of commodities of interest and finalising their standards.
He further explained that harmonising the standards can be achieved by leveraging the AfCFTA's convening power and relying on the expertise of African exchanges and other organisations involved in setting standards; such as the African Standard Organisations and African Union.

The outcomes will then be relayed to heads of states and governments to initiate the harmonisation of standards within their respective countries.

Ali also emphasised the importance of information-sharing and open discussion in leveraging the opportunities presented by AfCFTA. He attributed the present low intra-African trade to a lack of information about operation of commodity exchanges on the continent.

He urged commodity exchanges to have a common voice, be transparent and willingly share information to facilitate increased trade. Ali believes that with adequate market information, AfCFTA can identify the right policies to address existing problems and avoid duplication.

Regarding the role of technology in preparing the African Exchange Market, the CEO-Ethiopia Commodity Exchange highlighted its significance.

He explained that technology has the capacity to bring together key institutions such as warehouse operators, quality operators, banks, and clearing and settlement systems; enabling them to operate seamlessly and effectively.
He emphasised the transformative nature of technology, particularly in digital payment infrastructure – which can facilitate the development of new products and services.

The challenge of standardisation in the AfCFTA presents an obstinate obstacle, but experts are optimistic that with concerted efforts, transparency and information-sharing among commodity exchanges, progress can be made in addressing the complexities of commodities and facilitating increased trade within Africa.

Section 12 of the Land Act 2000, Act 1036 makes it a punishable criminal offence to hire the services of land guards to protect one's land.

He said engaging the services of land guards is a criminal offence punishable by a term of imprisonment.