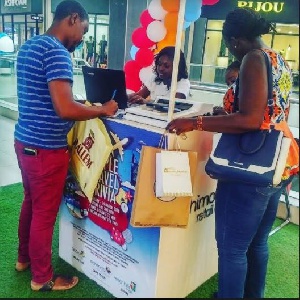 With barely four weeks to the Christmas festivities, traders in the Central Business District of Accra, on Monday said they expect sales to pick up around 'pay day' from the current slow start.
Some customers, they said, also preferred to wait till mid-December in anticipation of procuring the latest in clothing and footwear designs and brands befitting the festivities.

Christmas, which commemorates the birth of Christ Jesus more than 2000 years ago, is one of the major events on the Christian calendar.

Celebrants around the world, usually go to church services, parties and other social events, in beautiful new clothing and splendid hairstyles.

It is also a period for giving to reflect the generosity of their maker.

This usually leads to a boom in the purchase of the seasonal merchandise, especially for children.
When the Ghana News Agency visited the City centre, it noticed that only a handful of shops had been decorated with Christmas ornaments to indicate the mood and readiness for the season.

Some of the interviewees said they were preparing to hang them in December.

Ms Akua Agyeman at the SIC Mall who g, a sales representative of shop, which deals in Christmas items said, she was hopeful that business would be brisk at the turn of the new month, as was the case last year.

"Last year, it wasn't very encouraging around this time but the December sales were significant in the end," she said.

"I know that when our customers who work with the corporates receive their November salaries we will see some good action".
Ms Agyemang also explained that some of the customers had been shop windowing in order to plan their shopping budgets.

Madam Esther Ofori, a Floral and Décor shop owner, said sales were at their regular pace for her, but the level was good and could only be better in the coming days.

Naa Dede, a trader in wig caps, however, expressed pessimism at cashing in on the season, saying the trend of patronage had been discouraging so she would not restock for the season.

The traders say they did not anticipate the increment in the prices of their goods because the cedi had remained relatively stable.

However, the high demand for foreign currency to foot imported goods for the season sometimes lead to price changes.