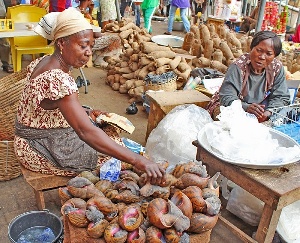 Traders in the Central business District in the Ashanti regional capital Kumasi have begun reduction sales in celebration of an anticipated victory of the presidential candidate of the New Patriotic Party (NPP).
This follows a call by the Ashanti regional chairman of the party Bernard Antwi Boasiako popularly called 'Chairman Wontumi' who advised that traders give rebates and mass sales for low income earners to buy ahead of victory celebrations.

Provisional Electoral results projected by parallel collation in several political party offices and media houses put the NPP candidate Nana Addo Dankwa Akufo-Addo in a clear lead with more than the 50% plus 1 vote needed to secure him electoral victory.

The jubilation in the CBD has however begun in earnest ahead of the official declaration of the results by the chair of the Electoral Commission (EC) Charlotte Osei with several traders adorned in paraphernalia of the NPP.

Some traders who thronged and almost drowned the cameras of Ghone Television told correspondent Isaac Justice Bediako they were excited and just couldn't wait to see all their problems solved by the candidate they hailed their messiah.
A vociferous seller of second hand clothes indicated that they have resolved to reduce men's shirt from GHC10 to GHC5.

In response to the call by the Ashanti regional Chairman of the party she said, 'the taxes I pay for bringing in bale of clothes will now reduce and I can sell out and still make some profits'.

The same appears to be running through the traders who are currently adorned in something NPP, or wielding placards telling the President John Dramani Mahama his time is over.