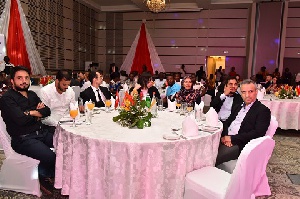 Tue, 21 Aug 2018 Source: Paa Kwesi Forson
Management of Southeast Anatolian Cereals, Pulses, Oil Seeds and Products Exporters' Association on Friday hosted a dinner and exhibition event bringing together business men from the two countries to discuss business opportunities amidst enjoying Turkish Tastes.
The event, which took place at the plush Labadi Beach Hotel in Accra, saw business partners, ambassadorial guests and invited guests being treated to good Turkish taste and merry making.

Speaking at the event, Mr Mahsum Altunkaya, Chairman of Southeast Anatolian Cereals, Pulses, Oil Seeds and Products Exporters' Association said the festival served as a platform for investors and entrepreneurs to meet and discuss investment opportunities in both Ghana and Turkey.

"We are hosting a Turkish Tastes Festival in Ghana to introduce nutritional Turkish foods to the Ghanaian citizenry as well as enhance importation and exportation of goods and services by the two countries. Pasta, bulgur, pulses and vegetable oils would give birth to more business deals for small and medium-sized enterprises and larger corporations."

He noted that Ghanaians and other nationals had been invited to respective locations to have a taste of Turkey dishes for free, adding that they were also ready to taste and enjoy Ghanaian dishes.

"The dinner is part of a nine-day festival which started with a caravan tour on the principle streets of Accra to bring Turkish tastes to the doorsteps of many Ghanaians at relevant points including Accra Mall, Osu, Rawlings Park, Tema Station, and others."
Mr Altunkaya noted that: "Bulgur is the future of food, thanks to its attributes—long shelf-life, resistance to microorganisms and insects; rich in vitamins, minerals, and folic acid; it also helps prevent intestinal cancer and it is good for pregnant women and the elderly".

He stressed that Bulgur is rich in dietary fibre, supports brain development for children and is good for diabetics, hence the need to introduce it to Ghanaians.

Explaining the specialty of Turkish delicacies, Mr Altunkaya said the pasta industry of Turkey is found in the world's A-class league of high quality, high protein, high transparency and good aroma.

The Chairman also explained that the Turkish Pulses were also introduced to Ghanaians because of its nutritional and health benefits by regulating blood sugar; reducing the desire to eat excessively; containing less calories, glycaemic index and containing no cholesterol.

M Altunkaya disclosed that 49,261 quantities of pasta was exported into Ghana in 2017 while 17 tons of bulgur and one ton of Lentils were exported into the country last year into Ghana.
Professor Mustafa Bayram, a Lecturer at the Department of Food Engineering, University of Gaziantep, Turkey said Ghana is important to the Turkish Exporters and the country as a whole due to the relationship the two countries have.

He noted that Ghana which engages in active trade activities with Turkey was chosen for the festival so that feedback from the general public could be used to improve their products.

The President of Ghana Tourism Federation (GHATOF), Bella Ahu commended the Turkish team for organizing Turkish Tastes Festival, setting the tone for the elevation of tourism between Ghana and Turkey.

"I must say that Ghana and Turkey have a long-standing relationship which has resulted in the introduction of #TurkishTastes in Ghana."

She added that today's tourism market is driven by experiences and one of the most important aspects of experiential tourism is food. I am positive that many memorable food experiences will be strengthen Ghana-Turkey tie.
Source: Paa Kwesi Forson