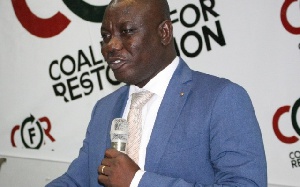 Member of Parliament for Bolga Central Mr Isaac Adongo has said uniBank will revert to Duffuor and its rightful owners, encouraging account holders with the bank among his student audience to keep faith with the financial institution.
He was addressing NDC TEIN wing at the Tamale Technical University Saturday, an event covered exclusively by MYNEWSGH.com.

The MP questioned the competence and fair-mindedness of one 'incompetent' Mr Simon Donu, who the Bank of Ghana wants to put out as a "poster boy" for the uniBank take over.

Mr Adongo said if the caretaker role for uniBank were to be advertised, Simon Donu will not get the job, though a staff of KPMG, Mr Donu muddied himself in petty partisan politicking and showcased his incompetence running GCB, an appointment that was political.

"Next week I will release a statement on Simon Donu", The Bolga Central lawmaker said.

The lawmaker also accused the Bank of Ghana of selectively applying the regulations of the industry to favour the whims of Finance Minister Ken Ofori-Atta regarding the pledge of shares to uniBank which was not in the Finance Minister's "parochial interest", "forcing uniBank to register a negative capital adequacy so that they can kill it".
He said Ken Ofori-Atta and the leadership of the Bank of Ghana were the ones destroying private sector businesses using dominating political power to further their financial interests.

"We will not allow Unibank to be collapsed on the altar of political expediency. I want to encourage those of you here with Unibank accounts to stay put. That bank will bounce back to Duffuor and its rightful owners." He told the NDC students gathering.

"These people are not only clueless, they are wicked people. Clearly these people are a danger to the future of Ghana's growing business community.", he added.

Background

The Bank of Ghana announced that it had appointed private audit firm KPMG Ghana, as the administrator when it announced it had taken over the management of uniBank.
According to the central bank, it took the decision to save uniBank from collapse.

The BoG in a statement said, KPMG, as the official administrator, will play the key role of assuming control of the bank and all its branches and "carry out the responsibilities of the shareholders, directors, and key management personnel of uniBank."

It stated that during the period of official administration of uniBank, "the bank will remain open for business under the management and control of KPMG overseen by the Bank of Ghana, and is not being closed and liquidated."

UniBank was found to have persistently maintained a negative capital adequacy ratio below zero making it technically insolvent.

This contravened the 10% minimum capital adequacy ratio required.