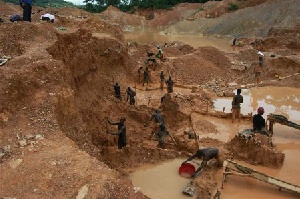 Executive Director for Social Impact Studies, Richard Kojo Elimah says we cannot have a one major solution or a one sided fixed solution in curbing illegal mining in Ghana.
He said it will be proper for Ghana to look out for a basket of solutions in resolving galamsey since those involved have different reasons for engaging in the activity.

He said, ''when you go into our communities, the miners have reasons for engaging in the activity. Some do that so they will be able to fend for themselves. Apart from galamsey they have nothing else doing because they have no better education. And so such an individual may need another alternative to survive after he is asked to stop galamsey.''

''He added, we should look for a sustainable solution. We should identify those who are not well educated and give them some form of training so they can self employed, generate income and be self dependent.

''It will not be possible for us to rely on soldiers in dealing with the menace,'' he said.

The ultimatum given by government he indicated has helped in maintaining some sanity but was quick to add that, the illegal miners have seen this kind of approach before and so, I will stress the need for a sustainable solution.
According to him, we cannot eradicate galamsey because it is not possible. Some of the miners depend on that for the source of livelihood...We also need regulation in the mining sector.

The various institutions should also enforce our laws and regulations.

''Let us strengthen our institution to help fight galamsey. If they need capacity building, we have to give it to them. If they have to travel abroad and learn from other experiences, they should be allowed to travel. The approach should look at strengthening the EPA and other bodies to help fight galamsey.

"We also need to regulate activities in the sector and ensure that operators don't destroy our water bodies. The final approach should be on the foreigners. We should use our soldiers to arrest these foreigners...We should ask the Ghana Immigration Service whether these foreigners have work permits.

"If you travel to other countries, foreigners without work permits are not allowed to work in those countries. Why don't we monitor foreigners who come into this country and ensure that they are complying with our laws?So one side of the equation is institutional strengthening. Let us strengthen our institutions to fight galamsey."