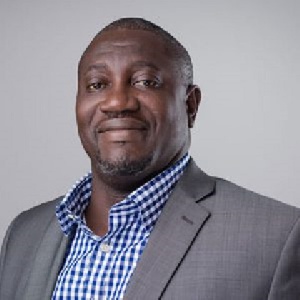 The Chief Executive Officer of the newly established Consolidated Bank has written to customers of the merged banks to assure them of the solid financial background of the bank.
In a text message to customers, Daniel Addo who was Executive Director and Chief Business Officer of Oakwood Green Capital Limited, also promised excellent customer relations at their numerous branches across the country.

"We warmly welcome you to Consolidated Bank Ghana Limited and are delighted at this opportunity to serve you. Consistent with the press release from the Bank of Ghana we are adequately capitalized and have enough liquidity to meet all your needs.

"We remain dedicated to providing you with the exceptional client service across all our channels and touch-points. Our commitment to this is absolute. Kindly call 0302 216 000 if you require any clarifications.Thank you for your custom and we look forward to serving you even better," the message from the experienced banker noted Friday Morning.

The Bank of Ghana on Wednesday announced the amalgamation of uniBank and four other banks into a new brand name – Consolidated Bank – after they were found to by struggling with liquidity issues.


Announcing the consolidation of the banks, the governor of the Central Bank Ernest Addison said, "To help ensure that the banking sector maintains a strong indigenous presence, the government has established a new bank called Consolidated Bank Ghana Limited which will act as a bridge bank pursuant to section 127 (11) of Act 930, to assume some of the assets and liabilities of the five banks. The Government has capitalised the new bank in the amount of GH¢450 million and the Bank of Ghana has issued it with a universal banking licence with effect from 1st August 2018."

The Central Bank, he further stated "has also approved a Purchase and Assumption Agreement between Consolidated Bank and the Receiver for the five banks. Under the Agreement, Consolidated Bank has acquired all deposits and other specified liabilities, and good assets of the five banks. To finance the gap between the liabilities and good assets assumed by Consolidated Bank, the Government has issued a bond of up to GH¢ 5.76 billion."