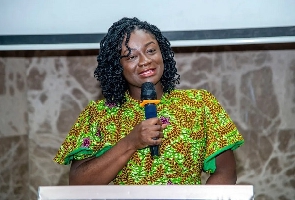 The Ghana Enterprises Agency (GEA) has hosted a stakeholder engagement for women and youth in Micro, Small, and Medium Enterprises (MSMEs) to help them better their enterprises.
The project is part of efforts to let women and youths in MSMEs ask questions about their varied jobs and obtain answers.

The Chief Executive Officer of GEA, Kosi Yankey-Ayeh, believes that stakeholder involvement can help enhance MSMEs in the country.

The stakeholders' engagement comes after the institution launched Women in MSME and Youth in MSMEs, with over GHC100 a million invested in this new project.

She stated that the government seeks to strengthen an entrepreneurial nation by giving some of the enablers that make a success through the women in MSME and youth in MSME programmes.

Access to funding and markets, mentorship, strategic partnerships and digital linkages, technical assistance, and business advisory support services are examples of these.
Kosi Yankey-Ayeh went on to say that this stakeholder engagement is taking place at the local level to achieve successful results.

She further noted that her institution follows up on funds supplied to entrepreneurs in MSMEs to ensure that the funds are utilised for their intended purpose.

"Two weeks ago, we launched the women's MSME programme and the youth in MSME programme. We've come to the local community to interact with them so they may ask any questions they have about the application process or any issues they face. This involvement would help them comprehend our job so that they could effectively complete the processes," Kosi Yankey-Ayeh said.

"I would also encourage individuals who have applied and been successful to use the loans for the reason for which they applied. The majority of the businesses that benefited from our loans expanded, while others hired more employees. Individuals in farming, medicine, and ICT, among others, have benefited. We always follow up on these companies. We've had multiple successes."