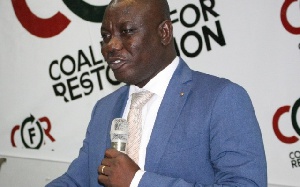 National Democratic Congress (NDC) Member of Parliament (MP) for Bolgatanga Central, Isaac Adongo, has condemned the Bank of Ghana (BoG) over the recent takeover of uniBank indicating it is a political move and not a business decision as the public is being made to believe.
The central bank recently announced the takeover on the basis of the bank refusing to cooperate with it in the performance of its supervisory responsibilities, including deliberately concealing some liabilities from its balance sheet, and failing to submit documents and records for supervisory inspection.

The bank, among other things, also "failed to comply with a directive of the Bank of Ghana dated 26th October, 2017 under section 105 of Act 930, prohibiting the bank from granting new loans and incurring new capital expenditures. Failed to comply with several other regulatory requirements, including: Lending to a number of borrowers in excess of its regulatory lending limit (single obligor limit) under section 62 of the Banks and SDIs Act, 2016 (Act 930)."

Governor of the Bank of Ghana, Dr Ernest Addison, announcing the takeover at a press conference in Accra on Tuesday, 20 March 2018, assured depositors that their money is safe, stressing: "We're not liquidating the bank, we are saving it."

However, the MP is of the view that: "Clearly, this is a political decision and not a business decision, if it was a business decision the BoG will not aim to collapse the bank".

He pointed out that BoG took the action to place the bank under administration because the owner, "Dr Duffour is an NDC man [and] Dr Duffour's bank got pledges of 51 per cent of shareholding of ADB Bank which means that uniBank will now be controlling ADB and the minister cannot understand how an NDC man will be controlling a national asset like ADB so when they kill uniBank and uniBank is gone how is he going to exercise the pledge?"
He explained in an interview with Class91.3FM on Friday, March 23 that shareholders of ADB Bank have pledged their shares to uniBank, which will inject about GHS700million into the operations of uniBank.

"Why is Bank of Ghana not interested in that?" he questioned.

Again, he said government is indebted to uniBank and instead of fulfilling their obligations, they have rather decided to take over the bank after contributing to the poor performance of the locally-owned bank.

According to the MP, contractors had taken monies from uniBank to execute government projects and have certificates at the Ministry of Finance which amount to GHS619 million. He disclosed that there is a further GHS277million of energy sector-related debts owed uniBank by government.

All these, he said, amount to over GHS1.5 billion, which will increase the liquidity of uniBank, "so, clearly you can see that it is a deliberate policy to collapse the bank".
He was concerned that the BoG may request parliament to approve monies to support uniBank, which the BoG intends to liquidate, yet the same monies could be used to support the bank to continue operations to make it profitable.

Citing examples using UT Bank and Capital Bank, which were taken over by the BoG in 2017, Mr Adongo said: "UT/Capital Bank, we (Ghanaians) are paying GHS3.4billion for the collapse, what would have been better? To save it or to collapse it and still pay 3.4 GHS billion".

He wants the BoG to immediately take uniBank from its current administration by KPMG and engage the shareholders on the best way forward.

The MP is entreating the BoG to appoint a consultant, which could be KPMG, to work with the shareholders of uniBank and conduct a valuation to determine the current value of the bank.

Based on that, he said the BoG can assess the assets and liabilities and "pump in additional cash" if there were liquidity challenges.
He continued: "If the shareholders are able to raise some of the cash, BoG can put the balance in as shareholders of the bank, together with existing shareholders. Based on that they can work together to establish a professional Board of Directors appointed by Bank of Ghana and existing shareholders. In fact, rebrand and grow the bank together over a period of two, three years and when the bank is on its feet and it is viable, you value the bank again and determine the interest of Bank of Ghana so that shareholders can pay Bank of Ghana off and they leave the bank in now very safe hands and very strong and ready, to continue its normal business. But you don't administer slow poison to the bank".

The lawmaker urged the Bank of Ghana to immediately stop its actions targeted at destroying indigenous Ghanaian banks, as, he said, it is not in the best interest of the country.

He is also charging government to pay all monies owed contractors so that they can pay their banks "so that no Ghana indigenous bank will collapse again".