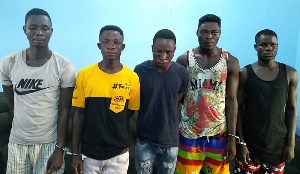 DAILY GUIDE has gathered that five suspected armed robbers, who were allegedly plotting to rob some gold dealers in the mining town of Tarkwa in the Western Region, have been arrested by the police.
They are Joel Nana Kusi Osei, 23; Godfred Agbeshie, 24; Abraham Mensah, aka Register, 26; Nana Amoah, aka Ras, 30 and Isaac Mensah, 32.

The paper learnt that the police had a tip-off that the five were preparing to rob some gold dealers at Tarkwa.

"The suspects, who were fully armed, were proceeding to the outfit of a gold dealer from their hideout when the police were given a tip-off,"
"The police also got information on the suspects' hideout and stormed there to arrest them," a resident asserted.

A search conducted on the suspects by the police revealed two revolvers and ammunition.

Sources told the paper that the suspects on August 28, 2018 robbed a mobile money merchant of GH¢14,000 at Ahwitieso, near Tarkwa, after they had trailed the victim from the Tarkwa Main Lorry Station.