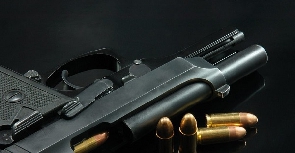 Five suspected armed robbers have been gunned down by the Accra Regional Police Command on the Accra end of the Tema motorway.
The incident happened Thursday dawn. It follows a tip off that the robbers were planning to engage in their criminal activities around that area.

The Accra Regional Police Commander, DCOP George Alex Mensah told the media on Thursday morning "The police strategised comprehensively to thwart this agenda and mounted surveillance on the suspects, who were on board two saloon vehicles and a bus,".
"The team tried to get the vehicles to pull over but the suspects, seeing the police, started firing indiscriminately into the police surveillance car narrowly missing the policemen on board. The [police] team was then reinforced and engaged the suspects in the shootout," he explained.

He added : "These robbers are suspected to be connected with several robberies within the metropolis, especially the recent attacks and robberies on forex bureau and the Adenta robberies we all know about."