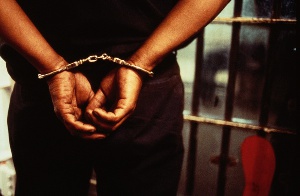 A brave police officer, Tuesday morning apprehended five armed robbers at Kwabenya, in Accra.
The robbers including a woman were on the run after they snatched a woman's handbag containing GHc4, 500.

The robbers reportedly snatched the money from the woman at Kwabenya abuom and sped off in a Nissan Almera taxi vehicle with registration number DW 7781- 13.

But the victim who did not want to give up on her money without a fight also picked a taxi to give the robbers a chase until she met a police officer stationed at a Bank at Kwabenya and narrated the incident to him.

The police officer, according to an eyewitness, picked an Okada and gave the robbers a hot chase until their taxi was caught in traffic.
The police officer shot the driver of the vehicle in the shoulder who was trying to manoeuvre his way through the traffic.

With the help of residents, the Police officer then arrested the robbers after their taxi vehicle run into a nearby gutter.

The eyewitness told Starrfmonline.com that but for the bravery of the police officer the robbers would have gotten away with their booty.

The robbers who are suspected to be Nigerians after the lady amongst them said she was a Yoruba have been sent to the Kwabenya Police station as investigations continue.