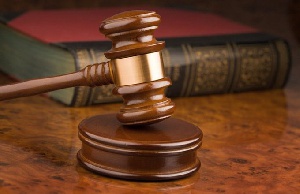 An Accra Circuit Court has remanded ten persons, including a footballer for conspiracy to commit crime to wit robbery and stealing among others.
Isaac Boadi, alias "K.K," 26, store keeper, Ishmael Ahenkorah, alias Nana Kwame, driver, 20, Kofi Bismark, alias Kofi Diesel, driver, 27, Mohammed Moses, footballer, 24, Kwabena Appiah Kubi, alias "Okobi," 33, and Kwasi Amponsah, alias "Aposa,"driver, 28.

Others are Felix Adri, alias "Rider," 29, Alfred Dormenyo, alias "Chilling," 24, both herdsmen, Isaac Addo Mensah, alias "Almera," driver, 30 and Stephen Nii Tackie, driver, 35.

They all pleaded not guilty to the charges.

Muhammed, the footballer and Ahenkora were additionally charged for possessing narcotic drug without authority.
Their accomplice, Yaw Duodu, alias "Mani or Jah," was killed whilst exchanging bullets with the police in an attempt to resist arrest.

Seven other accomplices are currently on the run.

They will reappear in Court on April 20.

Police Superintendent Kwaku Bempah told the Court presided over by Mr Aboagye Tandoh that Mr Richard Effah-Agyemang, the complainant, owns two forex bureaux one at Baatsona and the other at Spintex Road near Community 18 Junction.
The prosecution said on Saturday, February 10 this year, the gang planned robbing the two forex shops.

He said armed with machetes and industrial cutters, they commuted in a Sprinter bus and a Hyundai taxi cab to carry out their plans.

The Prosecution said, they first proceeded to the Baatsona branch, where they broke four padlocks on the shop and stole two laptop computers, one generator and GH¢140.00.

He said they later went to the community 18 Junction's branch and caused damage to the padlocks on the shop, entered the office and stole a Samsung television set.
The next day, Mr Effah-Agyemang received a call from his landlord at the 18 Junction of what had happened.

He rushed to the scene to find realised what has happened to both shops.

The Prosecution said a formal complaint was later lodged with the police, which led to the arrest of Kofi Bismark, at Akim Oda.

He said upon his arrest he confessed to the crime and said they had planned to rob but found none to rob and decided then to steal whatever they find.
The prosecution said further investigations led to the arrest of Boadi, Ahenkorah, Mohammed, Appiah Kubi and Amponsah at their hideout at the Delight hotel, Tema where a search on Mohammed and Ahenkorah revealed dried leaves suspected to be Indian hemp.

On March 6, upon a tip-off, police spotted, Duodo who is said to be the leader of the group at Akim-Asuboa, upon seeing the police pulled a side arm but police responded quickly and shot him, he was pronounced dead on arrival at the Akim Oda Government Hospital.

Prosecution said again upon intelligence Dormenyo and Adri who were riding in a Toyota Highlander with registration number GR 8001-18, driven by one Edward, alias "Akyedee" were spotted and pursued but they managed to escape, when they abandoned the vehicle and fled into a bush.

He said on March 21, Mensah and Tackie were also arrested at Techiman in the Brong Ahafo region when they went to steal from some stores using a Hyundai H200 with the registration number GT 5701-17.