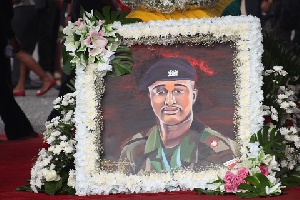 Lawyer of suspects arrested in connection with the murder of the late Major Maxwell Adam Mahama, is not enthused with the bad press courting verbal abuses on him in the ongoing prosecution in the country's courts.
Lawyer George Bernard Shaw cited instances where he was referred to as that 'devil of a lawyer' a development he said is not helping discourse of the country which practices democracy.

The media should stop insulting me. Some of them even address me as "that devil of a lawyer" and use all sort of abusive words on my personality. I am on the brink of withdrawal" he lamented.

Counsel of the accused persons who condemned mob justice, wants the rights of the accused persons to be respected indicating that he offered to defend his clients at no fee.

"I am not doing this for money; I am just a human rights lawyer. I am totally against mod justice. Stop trying the case in the media. The media should know better and educate the public".

"I have not been granted access to my clients to know their side of the story and that of their health and indicated that such practices were against the natural laws of justice and should not be entertained.
Mr Shaw advised the Government to be cautious with the way it handled the case as the international community as well as human rights activists were monitoring how the suspects in the case would be tried.