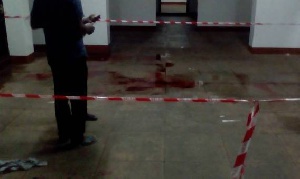 It is emerging that the knife that was used to stab an old Vandal to death Saturday evening at the Commonwealth Hall of the University of Ghana was snatched from a khebab seller.
A disagreement between the deceased, whose name has only been given as Chief Tipsy, and his colleague, was said to have caused the latter to stab him to death at about 8:30 pm at the 'Charging Grounds' of the Hall. The two were part of a group of former residents of the Hall – Old Vandals – who attended the funeral of another 'fellow' at Amrahia.

The argument between the two was said to have started in the bus in which they were travelling and attempts by their colleagues to get them to ceasefire proved futile, the Old Vandals Association has confirmed.

"The argument became heated and the two had to be separated on several occasions by others. It went on and on.

So, when we got to Atomic Junction, the driver was advised to stop and the two were thrown out of the bus. Others joined them," a statement from the Association signed by Isaac N. Sarpong said.
It claimed that when the two got to the Hall, they had not stopped the argument, and in the process, "the killer allegedly grabbed the knife of the khebab seller and cut the victim several times with it".

He then bled profusely and was rushed to the Legon Hospital by the killer and some Vandals but he did not survive, it said. The statement did not, however, say where the khebab seller was.

Meanwhile, the Association has extended condolences to the family of the deceased Old Vandal. Leadership of the Association has also scheduled a meeting on the incident that has left many students and the public in general in shock