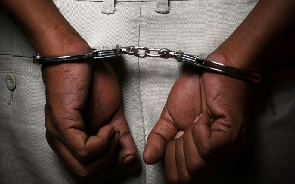 Two persons have been arrested by the Police in Salaga for allegedly robbing a motorbike on the Salaga-Kalande road.
The suspects Ahmed Karim, 24, and Mumuni Haruna, 36, were arrested by some young men at Jidanturu when they were absconding with a motorbike towards Tamale.

They have been charged with conspiracy to commit robbery and causing harm. They are to be arraigned on the charges at the Tamale circuit court today, December 12.

Confirming the incident to 3news.com, the Salaga District Police Commander, DSP David Kofi-Kumah said police received a complaint from one Gado Dauda around 8:30 p.m. Tuesday, December 11 that robbers had attacked one Iddrisu Sulemana on the Salaga-Kalande road.

He alleged that "on reaching a section of the road, victim was attacked by two men believed to be of Fulani extraction"
Dauda reported that, victim was hit in the chest with a club and subsequently fell from his motorbike.

"The suspects bolted away with the unregistered Sanya motorbike but were apprehended at Jidanturu by the former assemblyman and others when they were absconding with the motorbike heading towards Tamale," DSP David Kofi-Kumah said.

The suspects were later handed over to the police and are currently assisting in investigations.

"Preliminary investigation revealed, suspects live around Salaga and have been monitoring the movement of victim hence the attack," the commander said.