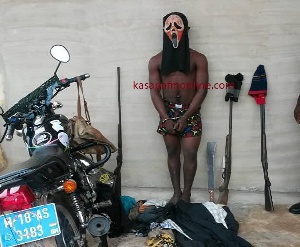 Police have arrested a 21-year old armed robber in a foiled robbery attempt at Akyem Akokoaso in the Eastern Region.
A tip-off to the Police indicated a planned robbery on Saturday, July 7, hence the law enforcement officers were stationed at the robbery site but were discovered by the robbers who took to their heels in a bid to escape.

The Public Relations Officer of the Eastern Regional Police Command, DSP Ebenezer Tetteh in an interview stated that the suspect Kofi Doudu was arrested while the rest managed to escape.

Items including, 2 single barrel gun, 1 double barrel garden gun, 1 Cutlass, 1 sharp knife, 1 brown bag containing 2 faced masks, 2 pair of black jeans trousers 1 black jacket, and a fertilizer sack containing 5 lady dresses and 1 Royal motorbike with registration number N-13-AS 3183 were discovered at the scene.
Suspect Kofi Duodu upon interrogation mentioned the names of his accomplices as Kofi Atigeh (the ringleader), Yaw Nicholas, and Kwame Adinkrah all from Akim Akokoaso.

Suspect Kofi Duodu is currently in police custody, while efforts are ongoing to apprehend the other suspects.