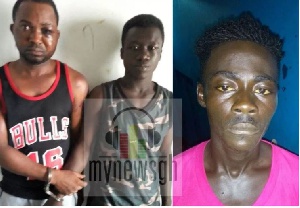 Police at Tafo Pankrono in the Ashanti Region have arrested four persons who conspired to rob one Fati Abubakri of her money and other belongings.
According to the police who confirmed the incident to mynewsgh.com, they arrested Osman Adams 32 and a petty trader, Yusif Issahaku 29 and a driver, Kadi Sumaila 26 also a driver and Osman Alhassan 20 and driver's mate upon a tipoff.

They disclosed that suspect Osman Adams conspired with the three other suspects to attack and robbed victim Fati Abubakar who happens to be his elder brother's wife domiciled abroad.

It was established that the suspects armed with a machete, knife and an axe converged at a spot near the victim's shop and waited till she closed at 22 Pm on the day of the incident.

They then attacked and snatched her handbag containing cash the sum of GHC800.00, an Infinix mobile phone and other personal effects.

The suspected robbers after taking their booty sealed the victim's mouth with a sellotape in order not to enable her to raise an alarm that could lead to their arrest and fled the area.
After sharing the booty, suspects Osman Alhassan and Kadi Somalia headed to Asafo and boarded a bus en route to Accra but were apprehended on their way following police intelligence.



The stolen items were subsequently retrieved from them and they led the police to arrest the other two.

All the four suspects have been charged and would be arraigned before court.