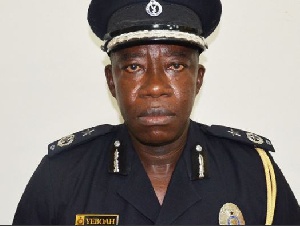 The police in Asante-Mampong have arrested and detained one person in connection with last week's robbery attack on a Total Fuel Station at Bosofour.
Deputy Superintendent of Police (DSP), Mr James Nyadedjur, the Mampong Divisional Commander, who confirmed this to journalists did not however name the suspect, citing security reasons.

He did not also provide any other details except to say that the man was assisting in their investigations. Armed robbers, numbering four, raided the fuel station on Friday, March 2, and amid firing of gunshots made away with about Ghc12,000.

They seized mobile phones of the attendants in the raid said have happened around 6:30 pm.

Whilst escaping with their booty, they also attacked a mobile money vendor and forcibly took the day's sales.

The Police had earlier said the robbers made away with a total of GHc12,000.

"On 02/03/18 at 1845hrs,four suspected armed robbers with three wielding short guns and one holding a stick attacked the above station (.) They first escorted the mobile money woman into her office and took all her money amounting to about 3000 Ghana cedis. They asked of the manager and she pointed at him and he was escorted into the strong room and ordered to open the safe and an amount of about 9000gh was collected," a statement from the police said.
Although the police said they were called on time to the scene the robbers managed to escape arrest.

"A police patrol had information and rushed to the scene and spotted one of the robbers who positioned himself by the roadside. He immediately fired three shots at the police and wanted to re-load the gun and police returned fire but he managed to run away and joined a waiting taxi cab and fled. The other accomplices also escaped through a bush behind the filling station. Manager Dennis Frimpong sustained a minor injury on the head and was treated and discharged."

The police said they continued the patrol in the entire enclave and were able to arrest a taxi driver, Inusah Braimah, aged 25, believed to be one of the robbers.

The police in the statement said upon a search, a cash amount of GHc1190 was found on him "and he could not give any tangible source of the money, meanwhile his accomplice who was with him managed to run upon seeing police."

"Suspect is detained pending identification and further investigation," the police statement added