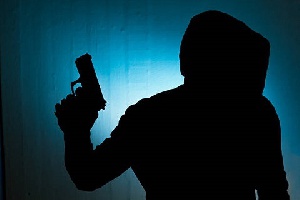 Police officials have confirmed the killing of two suspected armed robbers at Haatso, a suburb of Accra.
The Accra Regional Commander, DCOP George Alex Mensah, says this was as a result of a shoot-out these armed men, Raymond alias Dragon and Kwame alias Mafia, opened at the police.

DCOP Geroge Alex Mensah reveals that these gunned-down robbers were part of those attacking and killing residents at Oyibi after the disturbing Kwabenya jailbreak.

These arrests follow a play out of robberies in Accra and Tema by armed men in the country.

Meanwhile, it has been revealed that most robbers arrested by the police are nationals from Nigeria and other neighbouring countries.

In fact, recent arrests by the police in Accra saw alleged robbers with Nigerian names included. These persons are Godsgift Nwangaga, Ufuah Princewill, Okoro Amune, John Ani and Prince Nwangaga.
According to an investment banker, Evron R. Hughes, the issue of high robbery cases is linked to a "lack of an effective internal (country-specific) identification system (unique identifier of persons) and tracking of persons (in terms of addresses, including hotels) and also a fairly integrated ECOWAS crime database".

Earlier on, the Ghana police service arrested two suspected armed robbers who were picked up on their way back from a raid.

One of the suspects, 24-year-old, Mohammed Iddrisu Ziblim, was arrested on his way back from a robbery operation in Accra.



YEN.com.gh is gathering that some of the items retrieved from the two suspects include two pistols, one G3 rifle, 15 rounds of ammunition, two face masks, two pairs of hand gloves, a pair of scissors, a machete, five mobile phones and a bag.
Also, there has been a massive reshuffle in the police service following recently armed robbery attacks.

A crucial press release by the police service shows that 11 powerful police officers and head of departments have been reshuffled to other fields of the department.

An official at the most powerful position in the police department, COP/Dr. George Akuffo Dampare, who until recently was in charge of operations in Accra is now the director general in charge of research and planning.

Just moments before the press statement was released into the public, YEN.com.gh understands that the vice president convened an emergency meeting with all seven security heads in the country on the drastic measures needed to tackle the menace of crime in the country.

What this means is that there will be heavy military and police deployment to major streets in the capital.
YEN.com.gh is also gathering that "Operation calm life" has also been equipped to flush out all criminals in the country as the joint police-military force gets deployed across the country.

Meanwhile, the public is being entreated to stay calm as all these security reforms are aimed to deal with crime in the country.

Ghana recorded close to 80 cases of armed robbery attacks in January 2018 alone as compared to 60 cases in 2017.

Records by the Ghana Police Service reveal that the ratio of security officials to civilians currently stands at 1 policeman to 500 Ghanaians.

This troubling reality falls in sharp contrast with the success stories of various African countries who have a satisfactory of police per civilian ratio.