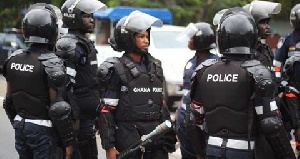 Security Analyst Emmanuel Sowatey has stated that its wrong for security agencies to shoot-to kill suspected armed robbers and criminals in dealing with violence in the country.
He explained that it will be impossible to trace the other suspects who might have fled during the police or mob chase.

Some suspected robbers in recent times have been shot and killed by the police during gun battles. With the police claiming the robbers initiated the gun exchange.

Mr Sowatey believes the shot robber might assist in arresting the rest of his/her gang if he/she is not shot and killed.

Speaking on Ultimate Breakfast Show hosted by Lantam Papanko, he said saving robbers from dying helps to detect their source of weapons and their kingpin.

He stated that innocent people might be killed if the security agencies embark on shoot-to kill policy.

'Shooting to kill robbers, generally no, for a number of reasons, sometimes you would want to get a hold of a broader gang, if its a group of people. When you do social criminal analysis, you want to create the whole connection between for example: the source of the weapon, where they keep it, how they recruit, where they share their booties, how they restrategise and respond to the state.
'There are a number of reasons its in the advantage of the security agencies to get suspects alive. Ultimately, when you are using fire power, you would want to giver the other person the opportunity to exonerate themselves. In other words you don't want to kill an innocent person because you cannot bring back a dead person to life. So those are things why you wouldn't want to kill people suspected to be criminals'.

Mr Sowatey advised the police to give suspects the benefit of the doubts by giving them the opportunity to come out with their perspectives instead of killing them.

He said policemen can open fire if their lives are in danger advising the police to deal with people on equal grounds.

'…We have to encourage the police, but the other side, we need to criticise the police constructively if we have to, but sometimes there are some police personnel who think that if you scrutinise the discharge of firearms too much, you are trying to be an anti-police, no, what you are trying to do is you are trying to increase the legitimacy of the police. The fact that legitimacy is in the legal books doesn't necessarily mean that its necessary and sufficient,' he said.

He said some of the fire exchanges that occur between the police and robbers sometimes undermine the credibility of the police saying their narratives sometimes do not add up.

'I sometimes take some of the explanations by the police with a pinch of salt,' he said.