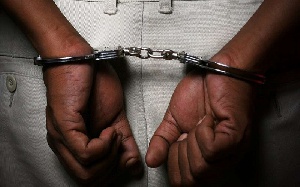 The Police in the Central region has arrested six persons for allegedly duping a woman of her money.
The suspects; Ahorlu Tugbedor Saaka, Godfred Ametsitorvi, Victor Tsugbedor, Tugbedor Kofi, Victor Ahianyo and Yao Ahanogbe according to the police were among a group of men and women who tricked the victim Florence Annan, a trader in parting with an amount of Ghc1,700 and her goat.

The six according to the police tricked the woman into believing that they could double the money for her but started threatening to beat her if she kept disturbing them for a refund of her money and goat.

The victim Florence Annan, a trader at Kasoa according to the police reported after a fruitless effort in getting her money and goat back.
She decided to file a complaint at the Criminal Investigation office of the Kasoa divisional police command which led to the arrest of the six at Gomoa Kakraba Airport Junction.

The suspects on seeing the police at the area took to their heels but six of them were overpowered by the police and have since been detained for further investigation.

A small coffin and two boxes of chalk according to the police were retrieved from the scene.