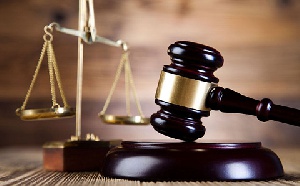 The Koforidua Circuit Court B presided over by Her Honour Mercy Addai Kotei on Wednesday May 2, 2018 refused bail applications by defense counsels for the two accused persons- Corporal Ghasty Yaaya Seidu, a Police officer attached to the Akuse Police station and Seth Kpornya Dodzi, a private security man with Star Oil Fuel filling station standing trial for robbery.
The accused persons pleaded not guilty to charges of conspiracy to commit crime to wit robbery and Robbery. The third count of attempted murder will however be heard at the high court.

The two accused persons have therefore been remanded into Police Custody to reappear on May 15, 2018.

The Prosecuting Officer, Dickson Donkor led by the Regional State Attorney,Mrs. Emily Addo-Okyereh told the Court that the two accused persons were part of eight member gang of armed robbers who attacked Okwenya Shell Fuel Station in Somanya on March 26, 2018 and made away with amount of Ghc37, 581.

He explained that, the robbers after resistance by the Security man on duty, tied him, inflicted cutlass wounds and shot at his head before locking him and one other staff in a room.

The Prosecutor said, the armed robbers then broke into the safe and bolted away with the money before the arrival of the Police.

The Victim, 42-year-old security man, Kudjo Akakpo who was severely injured during the robbery, identified the two accused persons after he was discharged from the hospital.
He said investigators from the Regional CID led by Deputy Regional Crime Officer, DSP Seth Serwonu during investigation into the incident arrested the two accused persons on April 26, 2018 at Akosombo and Somanya respectively.

A search conducted in the room of the accused Police officer after his arrest led to the retrieval of one Bruni Pistol mode 92 together with two magazines and three 1.8mm ammunition.

He added that, an axe, a knife, 3 paper spray, 10 Wrist Watches, a pair of handcuff and a bayonet were also retrieved while a search in the room of Kpornyo Dodzi at his house in Trom, a suburb of Somanya, also led to the retrieval of 19 BB/AA live Cartridges.

Accused Police officer said the pistol was given to him by his late grandfather but later said during Police interrogation that, one Jewel gave to him for servicing.His accomplice told Police, the cartridges retrieved from his house were given to him by his company together with a registered pistol for security purpose.

Meanwhile, the Police have launched a manhunt for six other accomplices now at large.