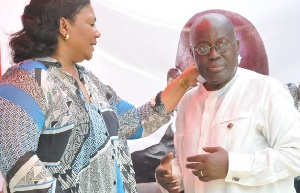 Thu, 5 Nov 2015 Source: NPP-USA
Wife of the presidential candidate of the New Patriotic Party, Rebecca Akufo-Addo, has assured the people of Ghana that her husband will make an excellent president of Ghana, explaining that "if you listened to our opponents, you would not recognize the man I know and love and am married to."
Mrs. Akufo-Addo made this known on Saturday, October 24, when she delivered the keynote address on "Family Values" at "An Evening of Interaction and Fundraising" organized by the NPP-USA Women's Wing in Columbus, Ohio.

"Every task he sets himself, he tackles with enthusiasm and dedication; he listens when anybody offers an opinion, he loves Ghana with an intense passion and he never tires of learning new things. He is an honest man, he is hard working and he will make an excellent president of Ghana," she said.

This drew a massive round of applause and a standing ovation from the gathering at the packed auditorium of the Crowne Plaza Hotel in Columbus.

Mrs. Akufo-Addo, whose delivery was excellent, explained that it is the values we hold dear as individuals, the way we conduct ourselves, and the way we behave under pressure that define the true measure of a person.

"Some of the values that would be drummed into a child from a typical Ghanaian family would be a strong work ethic, respect for other people, the value of education and civility in language and action. This is where family is helpful because you can only learn these values from the protected atmosphere of a home," she stressed.
She continued, "We are taught that success only counts when it is earned fairly, which means you accept the verdict of the Supreme Court even if you do not agree with the findings."

These values, according to Mrs. Akufo-Addo, are supposed to guide our instinctive behavior and reactions and would lead an onlooker to say, that must be a Ghanaian simply from the way you speak and conduct yourself.

"You know we are in trouble as a country when you wake up to voices on a Ghana radio station where nobody is listening to what the other one has to say and the language being used is vulgar and there is no attempt to stick to the truth. You know we are in trouble because that is not supposed to be the Ghanaian way," she noted.

In view of this, she noted that it is not the time for Ghanaian women to be looking to somebody to empower them, maintaining that "we have always taken the lead and throughout Ghana's history, whenever our nation has faced a crisis, Ghanaian women have risen to the occasion."

Touching on the economic hardships plaguing Ghanaians, which are being spearheaded by the incompetence of President Mahama, as well as the disputes in the top leadership of the NPP, Mrs. Akufo-Addo stated that "it seems to me this is the time for the female voices to be heard."
She indicated to the gathering, as well as to the leadership of the Women's Wing of NPP-USA, that "your organizational abilities have been displayed at this function, you have demonstrated you pay attention to detail and you have shown that you work as a team. That is the Ghanaian way and every once in a while, remind us who we are in the eye of the storm in Ghana. Remind us that corruption, disgraceful behaviour are unbecoming of a Ghanaian. We dare not lose the values that define us as Ghanaians and which set us apart from others."

It therefore came as no surprise when one member of the Somalian Community of Columbus, who was present to listen to Nana Akufo-Addo, had this to say about Mrs. Akufo-Addo: "I am overwhelmingly impressed by the intelligence and eloquence of your flagbearer's wife. Her message was on point, just as her beauty. She will make a unique first lady!"

Present at the event which was chaired by Mrs. Delali Agyekum and her husband, were Nana Akufo-Addo; Ms. Otiko Djaba (NPP National Women's Organizer); Hon. Shirley Ayorkor Botchwey (MP for Anyaa/Sowutuom); Nana Kwaku Agyei-Yeboah (Chairman, NPP-USA); Tina Mensah, Mireku Duker and Ato Panford (NPP Parliamentary Candidates for Weija Gbawe, Tarkwa Nsuaem and Shama respectively); Madam Rita Asobayire (former NPP National Women's Organizer); Dr. Elizabeth Afua Sarkodie-Mensah (NPP-USA Women's Organizer), Dr. Alexander Adusei (Columbus-Ohio NPP Chapter Chair); NPP-USA Branch and Chapter Executives; party sympathizers and members of the Ghanaian Community.
Source: NPP-USA