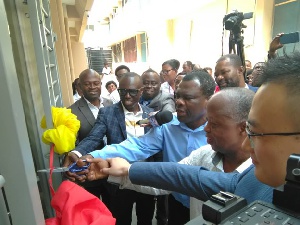 An ultra-modern laboratory equipment, SAL 6000 modular system which is expected to opmitise workflow, improve efficiency as far as clinical laboratory tests and medical research are concerned has been inaugurated at the Korle Bu Teaching Hospital.
The arrangement involves a four year partnership between Korle Bu and Mindray, a Chinese manufacturer of medical equipment and devices.

According to the CEO of Korle Bu, Daniel Asare, the entire plan consist of a financial engineering that will help the hospital save over US$411,000 if they had purchased the laboratory device on the open market.

"The new lab is a financial engineering where instead of buying this machine for US$411,000 which will work for one year then it breaks down, we are in partnership with Mindray for the next four years, so they will stay by us, we have engineers on site, they will look at the consumption, the number of reagents that we need, for every tests it is going to be there 24/7, 365 days in a year, so that anybody who comes to Korle Bu emergency who requires lab services will not have to be referred anywhere beyond Korle Bu" he told B&FT in an interview.

Among the benefits of the device are that patients will be easily diagnosed and they will get the treatment required, revenue from the hospital will be intact [about 40percent of patients conduct laboratory tests outside].

It also means that Korle Bu will have a modern ISO certified laboratory to undertake top notch research comparable globally.
Korle Bu will be running the machine or device for four years whiles Mindray will supply the reagent [used to determine glucose] as well as ensuring maintenance.

On the cost of the machine, Dr.Asare indicated that they will enter into a sharing agreement which will see Korle Bu absorb 70percent whiles Mindray takes 30percent.

Maurice Nyamkekye, director of Lynch Medical Services, local partners for Mindray, explained that the device is the newest model and it can handle hormones and chemistries [liver, kidney function test, renal function tests, uric acid] can be run on the machine.

The device can be used to carry out over 2,000 medical tests in a day including anemia, hypertension, growth hormones, thyroid tests, fertility, inflammation, tumor marker among others.