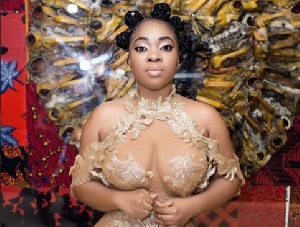 In the early hours of Thursday, April 12, 2018, Ghanaians woke up to the news of actress Moesha Boduong making wild statements on CNN Moesha was interviewed on CNN concerning her personality, sex, love, and other things.
In the end, Moesha, who plays a role in the popular TV series, Coco Brown, told the host of the TV show that she depends on men for survival.

According to Moesha, she currently sleeps with a married man for money because Ghana's economy is so hard.

Moesha was emphatic about her submission that given the current economy situation in Ghana, it would be hard as a woman to live without a meaningful 'sponsor'.

While the heat is on Moesha, it would interest Ghanaians to know that Moesha is not the only celebrity who has admitted to be sleeping with married men for money.

While some female celebrities have been suspected or accused of doing the same thing, others have openly said they, also like Moesha, deal with 'married men'.
Here, YEN.com.gh brings you 6 of these female celebrities.

1. Nikki Samonas:

The Ghanaian actress who is now a TV host at TV Africa has admitted to sleeping with a married man.

In an interview on Delay Show some time ago, Nikki added that it is normal for a producer to sleep with an actress, and that she has experienced it.

Nikki, who earned the title 'Bikini queen' for her stunning bikini photos also said on the show that "at a point in life you meet certain challenges and that was mine."
2. Berla Mundi:

The eloquent GHONE TV presenter some few months ago was fired by her colleague celebrities for allegedly sleeping with married men. Yvonne Nelson 'exposed' Berla on twitter for sleeping with another woman's husband.

Shortly after this exposure, Afia Schwarzengger also waded into the controversy, accusing Berla Mundi of sleeping with a married man called Mr. Adams who is also a politician. With all these allegations leveled against her, Berla Mundi has remained tight-lipped on the issue.

Till date, we cannot say if her silent means the accusations are true, or she just want to ignore her accusers.

3. Fella Makafui:
Recently, a Facebook user, 'exposed' Fella Makafui of sleeping with the Zylofon Media boss, Nana Appiah Mensah, for money.

Even before the social media user made this claim, Fella's own friend with whom she was 'flocking' formerly, Efia Odo, said in plain language that Fella has been sleeping with men in order to maintain her luxurious lifestyle on social media.

Fella Makafui, noted for playing the bread seller role in the popular youth TV series, has not addressed this issue.

4. Ellen White:

The popular Kumawood actress was allegedly caught pants down in bed with another woman's husband. This woman is no other person that her colleague actress Emelia Brobbey. They were allegedly caught in a hotel in Dubai. This has brought some sort of 'friction' between the two actresses even though Emelia Brobbey was said to have divorced the man before he was caught in bed with Ellen White.
5. Moesha Boduong:

Meosha is the one who has opened the floodgates for discussion. After confessing that she cannot make a livelihood without another woman's husband, Moesha added that even when she is not in the mood, she is forced to sleep with the man all because of the cash.

6. Efia Odo:

YEN.com.gh reported the story of a social media user threatening to expose Efia Odo of the "disgusting" lifestyle she was living in the US before her journey to Ghana.

While her fans were waiting on her to deny or 'attack' the social media user, Efia Odo shocked many when she said "God bless you, the world is waiting to hear what you have to say" to the one threatening her.