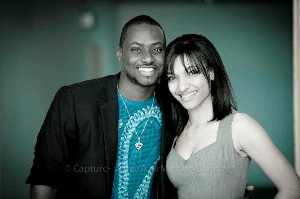 Thu, 9 Feb 2012 Source: Yemoh Ike
Most of our unmarried celebrities prefer to keep mute when asked of their relationship status but that of Chris directed the mind of this reporter to Romeo who could easily kill to have Juliet. The actor denied the circulating rumor of him dating Nadia Buari.
He admitted that Nadia is a kind every man would love to be with but funny in enough, he thinks the doubtful truth emerged from the set of "Be My Guest" a movie premiering on the 10th of February, 2012 at the National Theatre. He said, "The media and the public will always draw conclusion sometimes from great chemistry with someone on screen but hey, it's just acting and for us to make believe hence, such rumor, one way or the other tells me we interpreted the script well" he smiles.

Solemnly, Chris is dating Manuela at the moment, "I've never had a problem declaring that, she's my partner, my best friend and my Manager.... And we balance it all remarkably well" he added. Wow! The most handsome received applause from the nit-picking ladies, therefore, we went behind to talk to the girl in question.

Manuela is Chris's manager, they have been dating for close to 4 years and she recently took up the position as his manager and as we can all see she's doing an impeccable job. Speaking to her over the phone she told us that she understands the fiancé's job, it's an industry she's very familiar with. "I've never had a problem with the roles he plays, we have a healthy relationship and we love and trust each other.... At the end of the day that's all that matters...." she laughs out loud.
The reigning holder of the Pan African Best Actor, Chris Attoh currently, is the Ambassador of the Leukemia Project Foundation, which is rather silence now because their main mission is trying to put together a transplant unit at the Korle-bu Teaching Hospital for Leukemia patients.

Chris and his management believe the BEST are yet to be seen therefore, they edge their fans to put up a smile towards their surprise package. Keep reading for more exclusive updates.
Source: Yemoh Ike