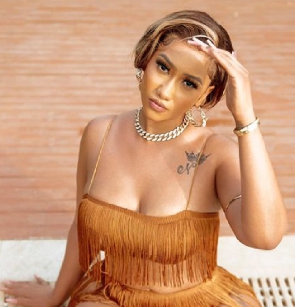 Ghanaian socialite, Hajia4Reall, has faced a setback in her bid to untangle herself from an alleged romance fraud case in the United States after she was denied bail for failing to meet set conditions.
The new twist is a spanner in the works of the socialite who had only recently expressed optimism of returning to Ghana by the end of this month.

According to a report by 3news.com, the US Department of Justice which set the terms of the bail denied Hajia4Reall bail because she did not meet the requirement.

Background

In May this year, The New York Post broke the news of Mona Montrage's arrest in in the United Kingdom after which she was extradited to the US to face prosecution.

The portal revealed that she had been extradited from the United Kingdom to the US for allegedly swindling over $2 million from older, single American men and women in a romance scam.

Hajia4Reall later appeared in a Manhattan federal court on Monday, May 15, 2023.
The socialite pleaded not guilty to the charges, and was released on a $500,000 bond with GPS tracking via an ankle monitor.

Her lawyer, Adam Cortez, confirmed to The Post that Mona received money from several others who were swindled by scammers in her network, and that she is charged with wire fraud, money laundering, receipt of stolen money, and conspiracy.

According to court documents, she was involved with a group of con artists from West Africa from at least 2013 through 2019.

The scammers would trick victims into transferring money to them under false pretences, such as to help move gold to the US from overseas, to resolve bogus FBI investigations, and payments to help fake US Army officers in Afghanistan.

Mona4Reall, in one case, allegedly duped a victim into sending her $89,000 through 82 wire transfers on the pretext of helping her father's farm in Ghana, the court documents claim.

Damian Williams, a representative of the US Department of Justice, stated that based on the evidence gathered, Hajia4Real could face a jail term of four to seven years if the court decides against her.
"Looking at her $2m romance scam, Hajia4Reall could be jailed for a period of four to seven years if the court were to make a decision based on the pieces of evidence gathered," Damian Williams, further stated.

On June 27, 2023, Hajia4Real expressed her hope of returning to Ghana in July this year. During an Instagram live session on her birthday, she interacted with her publicist, GH Hyper, who mentioned her as the "Guest of honour" for the upcoming launch of his lounge.

Despite her legal troubles, Hajia4Real emphasized the belief that as long as there is life, good things still can happen.

However, her failure to meet the bail requirements has led to her being detained and has cast uncertainty on her plans to return to Ghana shortly.

The situation surrounding Hajia4Real's legal issues has garnered significant attention both in Ghana and internationally.

Fans and supporters eagerly await updates on her case and hope for a resolution that allows her to return to her home country.
ADA/DO

You can also watch the latest episodes of E-Forum below.



Watch the latest episode of Talkertainment on GhanaWeb TV here:



Watch the latest episode of Nkommo Wo Ho on GhanaWeb TV here: