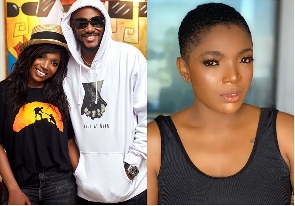 One of Nigeria's most decorated singers and performing artists, Innocent Ujah Idibia a.k.a 2baba, has come under fire by fans for saying men are 'wired' to cheat.
2baba made this statement in the second season of the Young, Famous and African reality show which also features his wife, Annie Idibia.

The statement seems not to go down well with fans, who have continued to drag the 'African Queen' star for his assertion while also maintaining that he has no respect for his wife.

In his words, 2baba said; "Like it or not, men are wired like that. A man will love a woman to hell. But maybe he is somewhere, so he decides to have sex."

Idibia however became a topic on social media after his comment as the users on different platforms especially Twitter, gave their diverse opinions.

Many of the Twitter users blamed 2Baba for disrespecting his wife and promoting the cheating culture.
Rising in defence of her husband, Annie pleaded with the public to let her marriage be.

"And you just want me to tell you that oh "Innocent messed up". I don't even know who my friend is in the group. Stop hoping and praying that something is wrong with Annie Idibia's marriage."

Watch the video below: