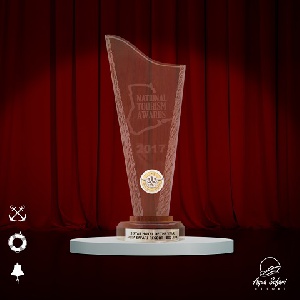 Sun, 15 Apr 2018 Source: Sena Atoklo
One of Ghana's exciting hospitality facilities, The Aqua Safari Resort has been adjudged the best 3-Star Hotel for the year 2017 at the recently organized Ghana Tourism Awards.
Located in Ada in the Greater Accra region, Aqua Safari has been in existence for five years and within this short period has made tremendous strides in the Ghanaian hospitality industry.

Aqua Safari is a story about the quest to provide patrons with the ultimate resort experience in Ghana and the sub region. This has led to the transformation of breathtaking beachfront land into a potpourri of thrilling sensations.

The resort offers scenic views and unforgettable experiences that patrons really will not find anywhere else.
In an interview, the Chief Executive Officer of Aqua Safari Resort, Samuel Afari Dartey noted that 'This award is a token to all stakeholders we work with, our hard working employees and our loyal customers, for all the efforts they put in and all the motivation and trust that they show towards us. Without them things would not have turned out so well and best that the jury after this intense scrutiny would not have picked us for the award" According to Mr. Dartey, the award is a token of their past efforts and a push factor for their future endeavors adding that "We will continue to create unique experiences for our loyal customers while complementing the heritage of Ghana".

Since the last 5 years , Aqua Safari has not only worked upon enhancing the product and services it offers, but the management and HR have also worked upon making the work culture better for its internal employees as well.

Aqua Safari gives you the thrill of an escape and the proximity of an excellent resort at the same time.
Source: Sena Atoklo