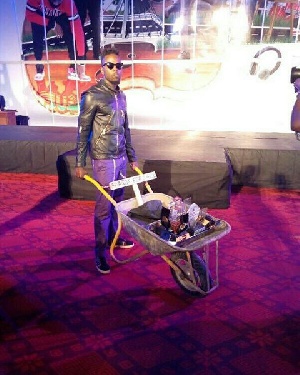 Tinny has claimed he does not trust the credibility of the VGMAs because they gave his awards to colleague rapper Kwaw Kese sometime past.
According to him, the particular year Kwaw Kese won many of the VGMAs was supposed to be his year but he was robbed of the titles. The 'Abodam' hit maker won five awards at the VGMAs in 2008.

Speaking to KOD and Cookie Tee on the Starr Drive Thursday, Tinny asked upcoming artiste not to bank too much hopes in the music awards since it is not credible.

"VGMA gave all my awards to Kwaw Kese . That year was my year but they gave all to him. He was sitting by me and anytime he comes back, I told him this is for you go for it," he said.
He added: "The VGMA will make you feel you are not good.

The 'Bubble Gum' singer has also warned Kwaw Kese not to attempt a revenge of his attack on him since it will be disastrous.

When asked by KOD what his response will be if Kwaw Kese responded to the attack with a diss song, Tinny said: "If he tries he will regret. It's music, we will all use our talent that God gave us and he will regret".