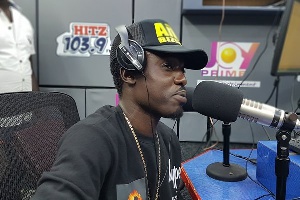 Criss Waddle yesterday in an interview on Hitz FM added his voice to the celebrities and numerous Ghanaians calling for the government to construct good roads due to how several bad roads in the country are causing many road accidents.
According to Criss Waddle, the refusal of motorists to pay tolls on the Tema Motorway is in its right direction stating that: "Every day we pay 50 pesewas, 1 cedi… more than thousand cars use the motorway in a day, what is their excuse."

The rapper disclosed that he almost lost his cousin in a motor accident and called on churches in Ghana to contribute in constructing roads because, from the beginning of time, Ghanaians have solely depended on the government for the construction of roads.
The AMG boss added that churches can lead special fundraising efforts on Sundays to raise funds to construct and maintain roads throughout the country.