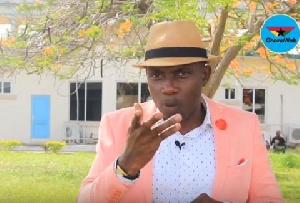 Ghanaian counsellor George Lutterodt, known for his controversial views on relationships and marriage, has caused a stir once again with his comments about the appearance of Harold Amenyah's wife after their wedding.
The bride, Irene, had faced criticism from netizens over her appearance, with Lutterodt focusing specifically on her hair extensions, which he claimed did not look good on her.

In his critique on Okay FM, Lutterodt suggested that one should not let their enemies become their decorator or makeup artist and should pay attention to their physical features, particularly their nose, and mouth, to avoid ruining their appearance.

"Your enemy can become your decorator. Your enemy can become your makeup artist, and your wrong friends can become your bridal party. It isn't that the lady isn't pretty, but the hair extension didn't look good on her.

"I don't know who advised her. It doesn't look good at all. You need to look at your nose and your mouth, you don't let someone destroy you. I feel sad," he said.

He also commented on the bride's body, stating that she would have been perfect if not for a few things she did wrong.
"Look at her buttocks, look at her body, and you have used that hair extension to destroy the whole look," he added.

Lutterodt went on to accuse the makeup artist of disliking the bride and suggested that the wrong friends in the bridal party may have had a negative influence on her appearance.

He concluded by stating that people enjoy creating problems, which may be the reason for the criticism of the bride's appearance on social media.

"The girl who made her up really dislikes her. You guys like problems," he said while speaking on Okay FM.

In the last couple of days, Harold Amenyah and his wife have been trending after a photo from their marriage ceremony went viral on social media. Some netizens mocked the bride, claiming she did not look good while others suggested that the groom appeared more attractive than the bride.
Counselor Lutterodt reacts to actor Harold Amenyah and wife's wedding photo#UTVNews pic.twitter.com/HOMXBTtUau

— UTV Ghana (@utvghana) April 3, 2023
Watch Moans & Cuddles below:
ADA/BB