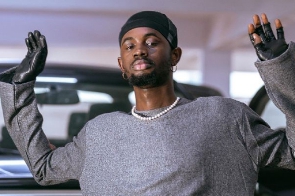 Cruise People Limited, the company embroiled in a contractual dispute with Ghanaian musician Black Sherif, has taken legal action against the artiste.
The lawsuit, submitted at the High Court, alleges that Black Sherif failed to uphold his end of the bargain, leading to the cancellation of the highly-anticipated Afro Cruise Jam concert, where he was slated to perform in Greece.

According to Cruise People Limited, they had secured Black Sherif's services for the cruise event by paying half of his booking fee, which amounted to $20,000.

As part of the agreement, they expected him to record a video confirming his participation in the event.

However, the artiste reportedly did not fulfill this aspect of the agreement, resulting in the cancellation of the booking and a significant financial loss of $18,000 incurred from reserving cabins on the cruise ship.
The organizers contend that Black Sherif's failure to confirm his participation placed the entire event at risk, as his presence was deemed essential in attracting patrons.

In light of what they perceive as a fundamental breach of the agreement, Cruise People Limited has sought legal redress to the matter.

The lawsuit seeks the reimbursement of the $20,000 booking fee, as well as the compensation of $18,000 to cover the costs of the lost cabin bookings.

Additionally, the company is requesting interest on the $20,000 from April 18, 2023, until the final payment date. Furthermore, Cruise People Limited is pursuing $50,000 in lost profits attributed to the alleged breach of contract.
The legal action underscores the significance of upholding contractual obligations in the entertainment industry and highlights the potential financial ramifications when agreements are not honored.

As the legal proceedings unfold, both parties will have the opportunity to present their arguments before the court, and the matter will be deliberated impartially.

Below are the reliefs being sought by the plaintiff:

a. An Order directed at the Defendant to pay the Plaintiff USD20, 000.00 being the part payment of the fee paid to the Defendant;
b. Payment of interest on the USD20, 000.00 from the 18th April, 2023 up to the date of final payment;

c. An Order directed at the Defendant to pay the Plaintiff USD18, 000.00 being the money lost in securing the cabins in the cruise ship;

d. An Order directed at the Defendant to pay the Plaintiff USD50,000.00 being lost profits occasioned by the Defendant's breach of the agreement;

e.An Order directed at the Defendant to pay to the Plaintiff the Ghc65, 000.00 which was paid to the Multimedia Group with the sole purpose of advertising the video clip of the Defendant which the Defendant refused to make available;
General damages for breach of contract;

g. Costs inclusive of legal fees.

h. Any other reliefs the Honourable Court deems fit.