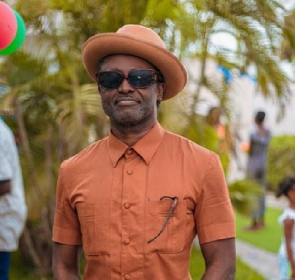 Hiplife musician, Reggie Rockstone has admonished Ghanaians who have been quick to condemn singer Hajia4Reall over her involvement in a love scam to be bold enough and equally rebuke African leaders who have been involved in corruption and other shady businesses.
Hajia4Reall is facing the law for allegedly swinging over $2 million from older, single American men and women. This is according to a court document.

Reggie, who has been following the conversation surrounding the case, had a message for the public. He has reacted to a viral video of Nana Romeo sharing his two cents on the trending issue.

The famous musician expressed worry and shock over the comments by a section of the public.

He wrote "My main issue is the selective energy folx get when sum like this pops up tho we have African leaders and politicians chopping our money live! Shit that affects me and you and our children's children! I don't see y'all say shit with the same vim nope! This is sum one's matter wey no Dey affect u saf! You take am World Cup smh! Meanwhile u Dey salute big man in tinted car Dey holla Bossu honorable? I can't think far or near! I understand sensational news etc yes!"

He continued "I dey read sum comments and I Dey sus folx! I have never had glee for the next man or woman's trouble! Nope! Btw scams are usually hit on folx who are greedy or thirsty! The promise of more! The thirst and lust for the fine botoz! Deez victims are not as innocent o! Dem wan nak ( most married saf) not condoning it but we have bigger fish to fry and look into! Shit that actually affects us here and now!"

Meanwhile, Nana Remoe has admonished Ghanaians to wait for the final verdict from the US court where the Ghanaian is being tried.
He was however quick to add that the singer must be made to pay for her offence if proven guilty.

"The accusations levelled against Hajia are all allegations. We have to wait until the court finds her guilty. If it is true that she committed those cries, we must condemn it. I Nana Romeo and others do not endorse love scams. I have witnessed some people making fun of the situation and jubilating. Nobody knows tomorrow. It can happen to anyone and so do not jubilate over someone's downfall...pray and ask for forgiveness on their behalf. It might be that that wasn't their intention. At this moment, if you have nothing to offer Hajia4Reall, just stay mute, and don't comment...A thief can advise others not to get themselves involved in such an act," he said.

As earlier reported, the Ghanaian socialite and singer has been extradited to the United States and granted a $500,000 bond with a GPS tracking device on her ankle to monitor her movement.

Check out the post below:




Watch the latest episode of Nkommo Wo Ho below:





OPD/DA