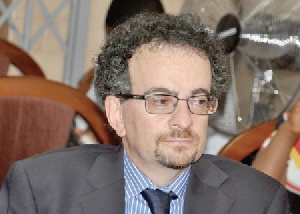 Ghanaian dancehall artist Shatta Wale has continuously made the headlines recently for one controversy or another.
His recent decision to wage a media war against Nigerian artists has gotten many in the Ghanaian music industry to comment, with many condemning his decision and a chosen few offering support.

This time around, Shatta Wale's upped the controversy level by publicly slapping one of his bodyguards while performing to a packed audience at this year's S-Concert last Friday.

Taking to his Twitter handle, the former British diplomat to Ghana warned Shatta Wale not to treat a passport control officer the same way he treated his bodyguard the next time he visits London.


That was some left hook .@shattawalegh - don't try that with the passport control officer at the airport the next time you visit us in London! https://t.co/cmfAC4UNK3 https://t.co/cmfAC4UNK3

— Jon Benjamin (@JonBenjamin19) December 3, 2017


Check out a video of Shatta Wale slapping his bodyguard and Jon Benjamin's tweet below: