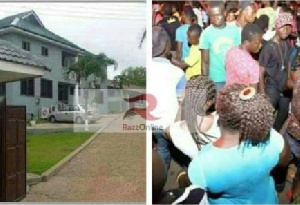 The Kwahu mountains have become a place for holiday makers in Ghana and even across the world over the years. Businesses and sellers climb up here to make money as well.
One thing that can't be taken out is the issue of accommodation. Hotels and guest houses are cashing in on this season as prices of rooms have been increased exorbitantly.

Razzonline.com is reliably informed that rooms that cost 60 Ghana cedis a day are going out for 600 cedis with some costing as high as GH3,500 for three nights.
Explaining the situation to Razzonline.com's reporter, Grace Afumwaa, one manager at the Norbertco Royal Hotel in Bepong who gave his name as Mr. Peter said, "the Hotel business is not that booming so during this season, we have to make money to pay statutory bills and taxes".

He added that, "if hotels don't make enough money during this period, it will be extremely difficult to pay our debts owed Internal Revenue, Ghana Tourist Board among others".