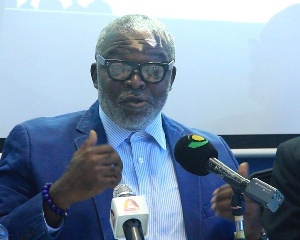 The Chief Executive Officer (CEO) of the Consumer Protection Agency, Kofi Kapito has urged Vodafone Ghana to end their contract with Charterhouse, organizers of Ghana Music Awards over the recent fracas at the 20th edition of the award event.
Kapito who has been a staunch advocate of consumer rights disclosed that he had an engagement with Vodafone Ghana and was amazed by their response.

He told Kojo Preko Dankwa, host of Morning Zoo on Starr Fm, Ghanaian consumer's rights have been severally violated by organizers of events and their sponsors.

He described the pandemonium that broke out shortly after Stonebwoy was announced the winner of 'Reggae/Dancehall Artiste of the Year' when Shatta Wale and his team were seen going towards the stage, their intentions were unclear as most unfortunate for a brand like Vodafone to associate itself with.

"I've had an engagement with Vodafone Ghana regarding the Music Awards brawl between the two Ghanaian artistes during the 20th edition of the scheme and I was surprised at the response they gave me.

"They told me they have a year contract with Charterhouse so they can't cancel it but I'm trying to convince them to cancel the contract." Kofi Kapito told Kojo Preko Dankwa
Commenting on his next line of action should Vodafone Ghana fail to cancel the contract with Charterhouse, Kofi Kapito said he will write to its parent company-Vodafone Plc to expedite action on this embarrassing issue.

"If they don't cancel this contract, I will write a letter to Vodafone International because Vodafone International will not condone anything like what happened at the recent VGMA event especially with their brand.

"You don't have to associate yourself with a negative brand. They say negativity is what rules in Ghana so why won't a marketing manager of a company tell us because of an artiste's bad behaviour their sales have gone up.

"Ghanaian consumers are always abused and not to respected. I get angry when a Ghanaian doesn't like perfection.

"Ghanaian entertainment players are mostly interested in discussing negativities and they are to be blamed for these mishaps in the entertainment industry.
"What does the Ghanaian consumer want because if you don't want mediocrity don't patronize it? Secondly, what are the expectations of sponsors in terms of brand association?" " Kapito revealed

He further stated that Ghanaian entertainers are role model to their followers so must act as such.

"Once you're in the limelight, you're a role model to your followers so the expectation becomes high."

He applauded Uncle Ebo Whyte, the CEO of Roverman Productions, for being someone who starts his events on time, advising others to do same.