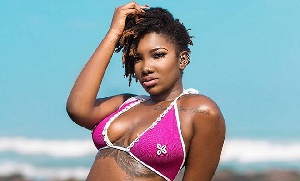 Dancehall artiste, Epixode is the latest showbiz figure to suggest that songstress, Ebony Reigns deserves to be adjudged Artiste of the Year in the next edition of the Ghana Music Awards.
According to Epixode, Ebony has been very consistent with hit songs and has performed creditably well the year under review, for which reason no artiste merits the topmost award than her.

"I think she should win the Artiste of the Year. She's done marvelous. Every song she has dropped back to back is a hit," he said on 3FM while stating that he would lead a campaign for her in that regard.

The debate on who wins the coveted category has been going on for a while on social media and on some entertainment talk shows even before organisers call for entries, abrantepa.com has observed.

While some argue that 2017 has been a good year for Ebony, taking into cognisance the release of hit songs, quality videos and performing on almost all the high profile shows, others believe Fancy Gadam deserves the crown.

Artiste manager, Bulldog, for instance, says it will not be fair if Ebony wins as he believes the reigning New Artist of the Year, Fancy Gadam, deserves it more.
He posits that Fancy Gadam has been able to break the marginalisation of Northern-based artistes to make it big in the South with two great concerts and a hit song which features rapper Sarkodie.

Ebony has hit songs – 'Poison', 'Sponsor', 'Date Ur Fada' and 'Hustle' – and recently launched her album.

The category definition of VGMA Artiste of the Year states that: "Artiste of the Year is the Artiste(s) adjudged by the Academy, Board and the General Public as the Artiste(s) with the highest audience appeal and popularity. The Artiste(s) must have released a hit single/album during the year under review."