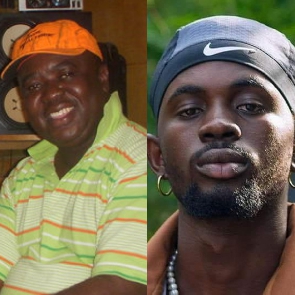 Renowned music producer, Fred Kyei Mensah, widely known as Fredyma, has expressed his disappointment over the reported arrest of Mohammed Ismail Sherif Kwaku Frimpong, better known as Black Sherif, at Kotoka International Airport (KIA).
The reported arrest came in response to a complaint of fraud filed against him by Cruise People Limited (Your Cruise People).

Fredyma's emotional post shared on Facebook on July 21, he shed light on the music industry's challenges and the impact of such incidents on artists' reputations.

He stated, "It's humiliating being accosted while going to board a flight. A lot of spin and lies were said about his arrest at the onset. It's a dent in the hard-earned image of his minimal success, and his management should, as a matter of urgency, sort things out with those that engaged him for that event.

"It's too early for him to be having such bad publicity about his unreliability when one engages him. In our Akan culture, it is said 'fromfrom nte ho daa,' loosely translated 'you cannot enjoy grace all the time'."

With 38 years of professional experience in the creative industry, particularly in the music sector, Fredyma reflected on the difficulties that artists face and bemoaned the fact that some artists have missed out on opportunities because of their lack of discipline.
"Several musicians have lost great opportunities in the creative space for lack of discipline, naivety, and not paying attention to detail.

"Having dealt with a lot of talents, some peculiar traits that emanate from their actions are non-strict adherence to contractual agreements, inadequate preparation for major performances, lack of routine training and upgrade of their crafts, deception, money conscious, and not capturing detailed daily events," he lamented.

He also warned Black Sherif about the delicate nature of life and advised, "Black Sheriff, don't blacken your chef's dress while consuming his delicacy for life is delicate! Good beads don't rattle (sic)."

On the evening of July 19, 2023, Ghanaian musician Mohammed Ismail Sherif, popularly known as Black Sherif, was picked up at Kotoka International Airport (KIA). Reports about the incident surfaced on social media, but details only emerged in the early hours of July 20.

According to a report by Kofi TV, Black Sherif was stopped upon his arrival in the country as his name had been placed on a 'STOP LIST.' He was returning to Ghana when the authorities detained him and subsequently moved him to the police headquarters in Accra.
The reason for his detention was a contractual breach. It involved a show scheduled to take place in Greece on August 19. Black Sherif had reportedly failed to honor the contract, which required him to perform on a cruise ship in Greece. The contract had a payment of US$40,000, with the artiste having received half of the amount upfront. He was supposed to receive the balance after the show.

Initially, there were no photos or videos of the incident. However, blogger Nkonkonsa later shared footage on Twitter, showing Black Sherif being led into a car by a police officer and another individual in mufti.

Meanwhile, GhanaWeb has gathered that Blacko was not arrested. He was rather escorted to the police car.