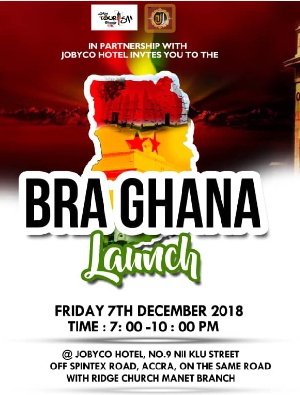 Tue, 4 Dec 2018 Source: Kirsty Osei-Bempong
Visit Ghana and learn much more about its rich cultural traditions, history and wildlife through a new tourism initiative called Bra Ghana – Maria Lovell, CEO of Miss Tourism Ghana UK (MTGUK) has urged global tourists.
Bra Ghana means 'come to Ghana' in Akan and is MTGHUK's campaign to encourage people in and outside the country to learn and experience all that Ghana has to offer.

If you've never considered Ghana as a destination point for sky-diving, hiking or safari, now is the time to start.

The Bra Ghana initiative aims to highlight that Ghana has much more to offer the world than just colonial history but also has exciting and niche activities that showcase Ghana's diverse tourism landscape – from the terrain and wildlife of the Shai Hills to the exhilaration of sky-diving in Kwahu.

Bra Ghana plans to unveil its host of programmes for the coming year and beyond on Friday December 7, 2018 at the Jobyco Hotel on Nii Klu Street, off the Spintex Road.

The programme of events includes festivals and carnivals to be staged throughout the year and designed to attract the Diaspora and other international visitors to Ghana.

"More visitors than ever are choosing shorter breaks, four or five-star hotels, boutique hotels, Air B&B, spa breaks, and cultural and events tourism holidays," said Maria Lovell, ceo of MTGUK, and founder of the Ghana Society UK in Luton.
"Bra Ghana aims to build on that demand by initiating events including festivals carnivals throughout the year to attract the Diaspora and other international visitors to Ghana."

The launch of this exciting initiative comes as the Ghana Ministry of Tourism announces its own drive to boost tourism with its 2019 Year of Return campaign.

This campaign aims to commemorate 400 years of the first slaves to arrive in America, and encourage those from the Diaspora to come home and establish businesses.

The Bra Ghana Launch is staged in partnership with Jobyco Hotel. The event is on Friday 7th December 2018 from 7pm to 10.00pm. The venue address is Jobyco Hotel, No.9 Nii Klu Street, off Spintex Road, Accra – on the same road as Ridge Church Manet Branch.

MTGHUK is part of the Ghana Society, which was founded in 2006 in association with Ghanaian students at the University of Bedfordshire. Since inception, the Society has been tasked with promoting Ghanaian Arts and Culture, in particular through the medium of carnival.

The Ghana Society, which is sponsored Jobyco Hotel, stages a number of activities including carnival costume workshops, educational youth workshops and various social events celebrated as part of Black History Month.
Source: Kirsty Osei-Bempong