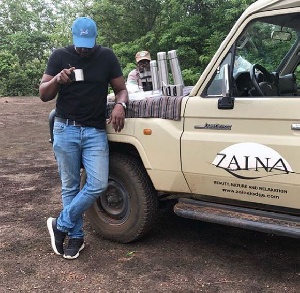 Popular actor John Dumelo is upbeat about a buoyant tourism sector if actors in this area marshal efforts to plan out interesting events throughout the year.
"I love what I saw in Ghana this December. Loads of visitors, events etc. For 10 days Ghana was like Miami or Dubai. Kudos to all the event organizers and musicians for outstanding shows. What we have to do now is to create more events and build more tourists attractions," a portion of a post on his IG read.

He suggested to management of tourist sites to improve on service and ensure there is a "wow" factor that will keep visitors coming back another time.

The actor has in recent times encouraged the youth to buy into the Africa's rising through agri-business.

Read his full message below.
"I love what I saw in Ghana this dec. Loads of visitors, events etc. For 10 days Ghana was like Miami or Dubai. Kudos to all the event organizers and musicians for outstanding shows.

"What we have to do now is to create more events and build more tourists attractions. So you visit Ghana, you go to Kakum, Wli and Cape coast castle. What will make you come back again? Nothing! Like Dubai, they are constantly creating new things for visitors to come back. That's what Ghana needs to do. We have the potential of being the Dubai of Africa.

"If we stay Focused, Dubai will be become the Ghana of Middle East. We can surpass Bali, Singapore and Greece as the number one tourist destination. Let's leave politics out of this debate for once and together let's make Ghana a better place. God bless our homeland! #Ghana #weareblessed #itstimeforustoshine."