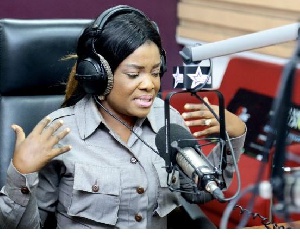 One of Ghana's most successful Gospel musicians, Mercy Twum-Ampofo known in the showbiz circles as Ohemaa Mercy has said those practicing homosexuality need to be shown love.
According to her, that is the only ideal mechanism to getting them to abandon the sadistic act, which she said is spiritual.

"It takes God for one to be delivered from homosexuality," she stated on Starr Chat Wednesday with Bola Ray.

"We need to bring those in homosexuality closer to us and talk them out," she added.

The gospel musician's comments come in the wake of growing pressure on the Akufo-Addo government by various world leaders including the United Kingdom Prime Minister Theresa May for the country to soften its stance on homosexuality.
May told President Akufo-Addo and other African leaders attending the Commonwealth heads of government meeting in London recently that it is wrong for homosexuals to be persecuted for their sexual orientation, compelling the National Coalition for Proper Human Sexual Rights and Family Values to declare that it will oppose any attempt at legalizing homosexuality in Ghana following pressure on the West African country by Western governments.

Also speaking at the 43rd General Council Meeting on May 2, the former Chairman of the Church of Pentecost, Apostle Professor Opoku Onyinah warned government that any attempt to legalise homosexuality in the country will be met with fierce resistance.

"The call to legalise homosexuality, LGBT, by some leaders of the Western world must be seen as neo-colonialism and must be condemned at the highest level. We do not accept this as an aspect of civilisation.

"Africans must see ourselves as people who are matured and know what is good for us and our people. The church in Ghana will continue to reject and oppose this and we are prepared to demonstrate against this if pressure continues to mount on our leaders," he added.