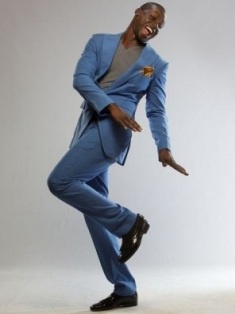 Wed, 20 Oct 2010 Source: News One
Thirty one year old actor cum international presenter Chris Nii Attoh has made an interesting revelation about himself - a revelation likely to send people's mind on an imaginative excursion and possibly satisfy the curiosity of his female fans.
Chris says he would not mind going naked in a movie if it became really necessary and the script made sense to him.He dropped this bombshell last week Tuesday in an interaction with News One and journalists at the press screening of Shirley Frimpong Manso's new movie, '6 Hours To Christmas'.

According to Chris, when he received the script of the movie, the first thing that came to his mind was that the movie would have a lot of sex scenes."More sex scenes oh my Lord ….," he laughed, adding, "…… to be honest, that was what I thought,. Not to say unfortunately that did not happen in this movie, but if I believe the story and I even have to get naked, I probably will".Chris continued: "Unfortunately, there is a lot of misrepresentation and there is a lot of sex in the Ghanaian movie industry and a lot of it is truly unnecessary. If the script calls for it and it builds up the story, I think it is a good thing. So that was honestly what I was thinking when I got the script and kept reading. "If you see the movie, you will have to agree that it has a lot more than just sex. I think it carries a lot of lessons. One of the main reasons I did it was because I definitely believe in one partner system."

Chris said though he has acted in a lot of movies, he considered 'Scorned' as his best until he did '6 Hours To Christmas'. He expressed the hope that his role in the new movie would offer some lessons to movie fans in a positive way.

Born in 1979 and raised in both Ghana and the UK, Chris Attoh is currently the CEO of his own company – A Factory Ltd, a media and television concept Development Company in Accra. He trained as a professional Abstract Painter and acquired a BFA in Fine Arts at the Kwame Nkrumah University of Science and Technology. Chris Attoh's passion and creativity in the world of television, radio and film led him into broadcasting and he worked for stations like Groove FM, Choice FM, Kapital Radio, Citi FM and now X FM. He had also worked as a presenter for Metro TV whiles hosting the then popular TV show 'Showtime.'
After university, Chris went on to further his experience in television in London, on Original Black Entertainment TV. Chris has also worked with ace writer/director Shirley Frimpong-Manso on movies such as the 'The Perfect Picture', 'Scorned', 'Life & Living it' and the recent one, '6 Hours to Christmas '.

Chris left the acting scene for a while to concentrate on directing. He enrolled in the New York Film Academy to add value to himself, taking an all around film makers course in December 2009. He returned to Ghana in late April 2010 and landed his first job as second unit director and assistant editor, working once again with close friend Shirley Frimpong-Manso on her movie 'Check Mate'.

In May 2010, Chris returned to his lead role as Kwame Mensah in MNet's captivating Soap 'Tinsel', which is currently shot in Lagos, Nigeria.
Source: News One