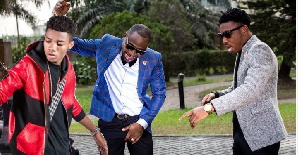 Real name, David Nana Dwamena but known in the music industry as Kidi, he was on Youtube's show Enter chat to talk music and his personal life.
When the host, Fresh Boy Papa Jay asked him about his 'Odo Remix' which features Nigeria's Mayourkun and Davido, the Lynx Entertainment signee said that he did not personally call to invite singer, Davido to sing on the track.

He narrated that, Mayorkun was on a tour in Ghana when he released the original 'Odo' single.

He continued that, Mayorkun called and praised him because he liked the song himself.

He further divulged that Mayourkun loved the song when he heard it constantly on radio, TV club and many other places so he requested for a remix.

Kidi indicated that he thought it had ended there until he was told by Mayorkun that he has shown the song to Davido who liked it as soon as he heard it.
"Because it has a resemblance of his hit track 'If', the line "30 billion" caught his ear and showed so much interest in the song.

I was there one day when we had a call from Mayorkun to check my mail", he said.

According to Kidi the content of the mail was Davido's verse of the 'Odo' track which came as a shock to him.

"It actually came as a real surprise because I never thought of landing a singer like Davido on my track that quick but boom it had happened." he told show host.