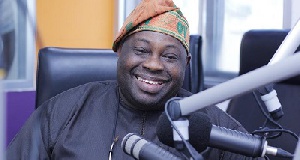 Early this year, Nigerian artiste Davido and the mother of his child, Sophia – who is the cousin of Nigerian Businessman Dele Momodu were involved in a custody battle.
Sophia and her family accused the 'Aye' hitmaker of child trafficking. The incident led to allegations and counter-allegations amongst the individuals involved.

The 'Ovation Magazine' Publisher on Friday morning spoke to Jeremie on Live Breakfast Club on Live FM about the said incident.

"… Of course, he had issues with my cousin Spohia who had a baby for him and he took it out on me because he felt I was protecting Sophia but that is what a family will do… Well, I don't have any personal issue with Davido. Davido is my son and so you can't have issues with your son. They said he sang another song where he called me his boy, I haven't heard that one, people have been tweeting me about it but i just choose to ignore it."

Davido did later apologize to Mr. Momodu after the incident, but called the latter names when he (Davido) featured on the remix of a song titled 'Osinachi' by HumbleSmith.


Mr. Momodu shared his thoughts about the song also.

"When I first heard it , I thought it was a negative insult so I called his father, and we've been friends for so many years, and the father said 'no, no, you know our mom… his father's mom is Igbo so they speak Igbo and 'Osinachi' means it's God's work and all that.

Listen to full interview below.