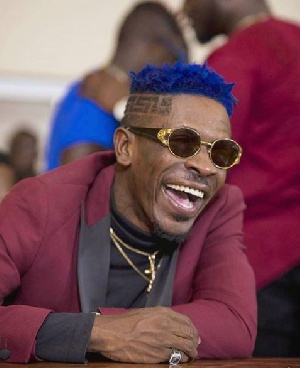 Shatta Wale seems to have put to rest the many minds wondering about the meaning of his name Shatta.
Contrary to the popular notion that the name Shatta means to destroy, Shatta actually means something more than that.

A post he made on his Facebook wall has explained the meaning of the name and how he got it.

According to him, the meaning of his name was revealed to him in a dream on March 31, 2018, which was Good Friday, according to the Christian calendar.

Shatta Wale revealed in the post that the name means "Serious Hustlers Always Trust The Almighty".

He wrote: "GM Today I saw this in my dream ...SHATTA S-Serious H-Hustlers A-Always T-Trust ?? T-The A-Almighty."
Shatta Wale, born Charles Nii Armah Mensah, was formerly known as Bandana when he started music in the early 2000s.

But somewhere in 2012, he did re-branding and changed his name to Shatta Wale.

Those were the times he had a brush with Kaakie and Samini during the 2012 Ghana Music Awards.

Shatta Wale had been nominated for Dancehall Artiste of the Year together with Samini, Kaakie, and others.

The award finally went to Kaakie, but this made Shatta Wale unhappy, so he vandalized the venue, and this brought him into the media limelight.
That incident collided with his re-branding, and so Ghanaians actually thought that Shatta means to destroy.

However, Shatta Wale's post would put to rest the many misconceptions about his name, with the announcement of the real meaning of Shatta.

Wale has been in the news recently for his 'beef' with Stonebwoy.