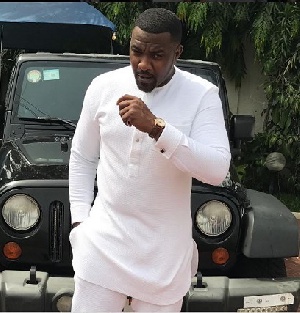 Actor John Dumelo has bought a new car after the government seized his V8.
The actor said in an interview on Accra-based Joy FM that the vehicle is not a government car because he bought it from someone whose name he did not mention.

"I will never keep a government car, first of all, I am not a government official so I will never keep a government car. I bought the car from somebody, I bought it. So at that point, I wouldn't say it is a government car or not."

Dumelo said when National Security said his black V8 Toyota Land Cruiser with registration number GE 8118-16 belonged to the State he asked them "to keep it. What is a car?" "After that happened I just bought a new car. The truth of the matter is that this car saga is something that just happened" he added.
On the issue of mocking the Chief Executive Officer of A1 bread, he said he was only misrepresented by social media.

"Why will I mock a bread seller? Social media just misrepresented the whole thing. Why would I go and laugh at somebody who is selling bread on the streets? They just twisted it. But at the end of the day, the guy had publicity."