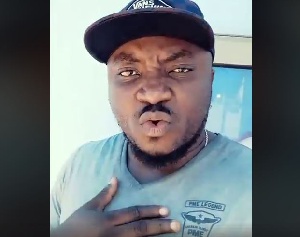 Comedian DKB has vowed to make life a living hell for fellow entertainer, Kumi Guitar.
Reports on several platforms yesterday suggested DKB was sacked from the single listening of Kumi Guitar after he suggested that Kumi Guitar should ride on Shatta Wale's fame to get his name out there.

But speaking in a short video after he was walked out of the meeting, the comedian who could not fathom what he did wrong indicated that he was shocked to have been sacked when he rather suggesting something that will help propel his career.

He indicated that with the level of humiliation, he will make life a living hell for Kumi Guitar.
Kumi Guitar, a Zylofon Media signee has released a new single titled "Betweener".