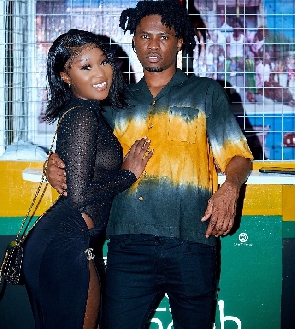 Actress Efia Odo has revealed she is no longer the big fan she was of rapper Kwesi Arthur.
It would appear something unpleasant has taken place between the two but she did not offer any substantial explanantion for her revelation.

Efia was on Accra-based Onua FM talking to Felicia Osei, Wednesday, January 11, 2023.

"I was," was Efia's firm response when Felicia said she is one of Kwesi's biggest fans.

"I was a fan but now I'm not a fan anymore," she added.

The problem is not his current music releases, she clarified. "His music is still good," Ms Odo said.
"Everything has its time. Nothing lasts forever except the Word of God," she again said to explain her decision.

Efia Odo, 29, gave a long pause when she was asked if it is the Tema rapper's personality she has fallen out of love with.

"Sometimes, some people can do things that can turn you off and then it's like, 'Okay, I can't really be a fan of this guy anymore," she noted and attempted elaboration by citing a real instance but decided against it.

"So I was a fan of him, his music... I'm still a fan of his music but not the biggest fan [anymore]," the actress and social media star continued.

Born Andrea Owusu, she revealed that she will throw more light on her relationship with Kwesi Arthur "if you listen to my upcoming songs; you'll hear everything."
"You'll see everything I go through in life in my music," she added, and reflecting for a while, clued fans in that: "My third or my fourth single is actually about me and Kwesi; our friendship, and everything and stuff like that.

Genesis of the Efia Odo-Kwesi Arthur Relationship

Three years ago, Ghanaian vlogger Zionfelix, a guest in Efia's home for an interview, asked her if she had ever been an item with Kwesi.

"We just worked on the 'Nobody' video," she answered. "We just became cool after that."

"Before we even met, I really liked him," she added and explained: "I love him music, I love his vibe. He's got this street, hood, like - Tema [attitude]. I like rap and he's a great lyricist. His words and his songs, sometimes you can relate to [them] as a human being, working [so very hard] to getting to where you are and people are trying to hate on you... It's a lot of things... I just love the way he is as a rapper, as a person and yeah, I like him."
Ms Odo, a media personality, also revealed she had a crush on the 'African Girl' hitmaker but stressed she had no intentions to get intimate with Arthur.

Far from that, "I can [simply and innocently] crush on him just because of his personality [and] not like anything sexual," she stressed.

Kwesi Arthur released the megahit 'Nobody' featuring Mr Eazi in 2019. The music video starred Efia Odo as a lover of Arthur.

Alleged Sextape

During the COVID-19 pandemic, Twitter went bananas when an alleged sextape capturing Kwesi Arthur and Efia Odo leaked and went viral.
Kwesi said nothing. Tweeting, Efia reacted with some profane insults in the Akan language targeted at those who claimed she and Kwesi were in the video. She also clarified to App users, April 1, that she is more competent in bed than the woman seen in the video.

The 'Son of Jacob' Album Launch

Last year, Efia Odo took over the headlines after showing up to Kwesi Arthur's debut album release in a black see-through dress.

On the sidelines of the star-studded event, when Accra-based Adom TV engaged her, she insisted that she and Arthur were just friends and had been so "for almost three years now" without taking things further.

"I support him because he is a very very good artiste. I want Ghanaians to know that the boy is not a common artiste; he's very versatile. If he were in America, he would have been even bigger than he is now," she passionately commented on the star rapper's abilities and status.